Super split pea soup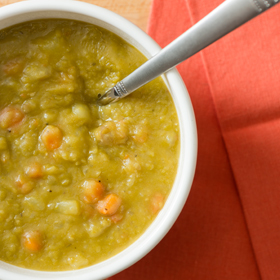 View step-by-step instructions

Makes 8 servings.
Instructions
2 tablespoons extra-virgin olive oil
1 medium onion, chopped
2 cloves garlic, minced
1/2 teaspoon dried rosemary
1/2 teaspoon dried oregano
8 cups low-sodium chicken broth (vegetable stock or water may be substituted)
4 medium carrots, diced
4 medium potatoes, cubed small
1 pound dried split peas, rinsed
Salt and freshly ground black pepper, to taste
Directions
Heat oil in large pot over medium heat.
Sauté onions and garlic, adding rosemary and oregano until onions are translucent, about 10 minutes.
Add broth, carrots, potatoes and split peas.
Bring to a boil.
Simmer uncovered for about 90 minutes or until peas are soft.
Season with salt and pepper.
Stir frequently to keep solids from burning on the bottom of pot.
You can adjust the thickness by adding a bit of broth, stock or water.
Serve hot.
Nutrition information
Serving size: 1 1/4 cup. Amount per serving: 344 calories, 6g total fat (1g saturated fat), 56g carbohydrates, 21g protein, 17g dietary fiber, 106mg sodium.